do13junPremiumCuriosity ForumChallenge Your Point of View
Promotietekst
SAS is pleased to kickoff 2019 with the comeback of our Forum, on Thursday June 13th. A day dedicated to challenging your point of view, in an environment you haven't experienced before. The new Curiosity Forum will challenge the point of view of over 50 speakers, entrepreneurs, artists and over 1.000 attendees alike. Wherever your interests may be, this edition is bound to excite & inspire you. Do not miss. Register Today.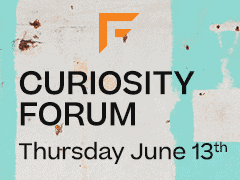 Event details

We live in a time when people have more reason than ever to be excited about the explosion of data and analytics. Soon everything and everyone will be generating data around the clock. A world of data will be available to us. And a world of possibilities to do good with it. At SAS we strongly believe curiosity is at the heart of human progress. Even more. Curiosity is our code.

Innovation is sparked by our continuous curiosity and often comes from exploring new point of views. So look to the future, with the same spirit of curiosity that has always led us to innovation.
Reimagine the possible. Challenge your point of view.